"Leading a well-oiled sextet (Monterey JF) here, he proved himself to be a performer of rare range and ability." David Becker - Bay Area Examiner
Scotty Barnhart is an acclaimed jazz trumpeter, leader, composer, arranger, educator, author and now in his twentieth year with the legendary Count Basie Orchestra has been appointed as their new Director.
A Two-time Grammy Award winner with the Basie Orchestra, three critically acclaimed recordings by pianist Marcus Roberts and over ten recordings with the likes of Tony Bennett, Diana Krall, Ray Charles, and Tito Puente, Scotty released his debut solo CD 'Say It Plain' on the Unity Music label. Scotty invited Clark Terry, Ellis and Wynton Marsalis, Marcus Roberts, Jamie Davis and Etienne Charles to share his compositions and love of standards on Con Alma, Giant Steps and Barnhart's own, Dedicated To You. Say It Plain achieved No. 3 in the Jazz Charts and has received celebrated reviews.
Acknowledged as one of the authorities on the history of jazz trumpet, he intently researched and wrote the ground breaking book The World of Jazz Trumpet - A Comprehensive History and Practical Philosophy. Published by Hal Leonard, it is a valuable source tool for jazz trumpeters, students and jazz fans with interviews from Harry 'Sweets' Edison to Chuck Mangione, technical tutorials, historical events and illustrated with unpublished photographs.
When Scotty Barnhart is not touring with The Count Basie Orchestra or teaching at Florida State University, he performs with his own quintet-sextet and lectures and demonstrates at schools, colleges, universities, conferences around the world, spreading jazz music to ensure its future for others to explore and enjoy.
SAY IT PLAIN
featuring…
CLARK TERRY, ELLIS MARSALIS, WYNTON MARSALIS, MARCUS ROBERTS, HERLIN RILEY, ETIENNE CHARLES, JAMIE DAVIS
TODD WILLIAMS, LEON ANDERSON, Jr.
BILL PETERSON, RODNEY JORDAN…
"… this such a good recording... well thought out and superbly executed." Stanley Crouch
Woodrow Wilkins "After many years as part of the supporting cast, Scotty Barnhart is taking that step forward as lead actor. The trumpeter mixes old and new, in varying styles, with his debut, Say It Plain."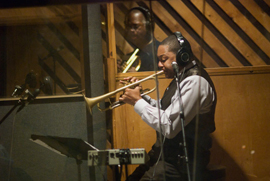 Recording Con Alma for Say It Plain with Wynton Marsalis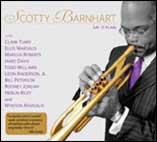 "Scotty Barnhart's soulful work combines a mastery of tradition with vibrant originality. I love it!" Bill Cosby

Unity Music


Scotty Barnhart interviewed at The Monette Trumpet Corp
SCOTTY BARNHART APPEARANCES
2013
December:
23rd: Walt Disney Concert Hall, Los Angeles -

February:
12th: Oklahoma City, OK
14th: Omaha, NE
21st: Elmhurst, IL
23rd: Bethesda, MD (with NYV)

March: 4th:
Derry, NH
5th: Stowe, VT
6th: N. Tonawanda, NY
7th: Beavercreek, OH

April: 3rd: State College, PA
5th: Goshen, IN
Above Dates with NYV
26th: St.Louis, MO

June 20th: Long Island, NY
"The best of the bunch, however, was trumpeter Scotty Barnhart." Michael Foster Music Resources Supervisor, University of Delaware & WVUD-FM
THE SCOTTY BARNHART QUARTET/SEXTET draws from a repertoire of original compositions as well as the masterworks of Coltrane, Porter, Monk, and Ellington as found in the Great American Song Book. The music program is interspersed with anecdotes from his book, The World of Jazz Trumpet. Barnhart enlightens audiences leaving them enriched with both a musical and historical awareness of jazz music.
For information and booking Scotty Barnhart please contact:
Scotty Barnhart
email: sbsbmusic [at] aol.com
Heather Taylor
email: heather [at] redfiremusic.co.uk
Call: +44 [0]754 507 6874
Skype: heather6mt

© 2013 SBSBMUSIC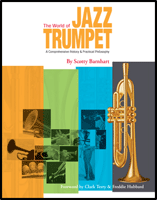 >>

BUY

>>



THE WORLD OF JAZZ TRUMPET -
A Comprehensive History & Practical Philosophy
Publisher: Hal Leonard
Author: Scotty Barnhart


Acclaimed jazz trumpet soloist Scotty Barnhart examines political, social and musical conditions that led to the creation of jazz as America's premier art form. He traces the many factors that enabled freed slaves and their descendants to merge the blues, gospel, classical marches, and African rhythms to create a timeless and profound art that, since its inception, circa 1900, continues to have a major impact on all music. The World of Jazz Trumpet is a must-have study of the jazz trumpet for students, instructors, and professional musicians, as well as for anyone who appreciates the genre. Readers will appreciate Barnhart's personal and professional connection to a major part of American and world history. This book fills a major void in the world of jazz education as well as in general music education. With entries on 800 trumpeters, it is destined to become required reading in colleges, schools and homes around the world.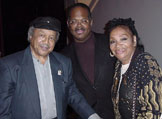 Snooky Young & Clora Bryant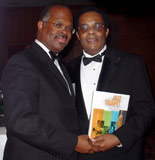 with Freddie Hubbard