Scotty Barnhart Reviews/Quotes:

Jazz Melds Musicianship And Manhood - Chris Timmons - Tallahassee Democrat [Click to download]
"His potent mix of vocal effects, finger pyrotechnics, and sultry balladry, matched with his gorgeous, soaring tone, provide the fuel for a thoroughly enjoyable album." Warren Allen - www.allaboutjazz.com

"This recording is well thought out and superbly executed. It is a personal panorama and an individual vision of how tradition and originality can be brought together most effectively." Stanley Crouch
"Scotty is a very tasteful soloist and one of the few musicians in the world who knows what not to play."
Frank Sinatra, Jr.,
"Wielding his rubber mute like a berserk plumber, Scotty Barnhart was the trumpet star" Mike Drew, Milwaukee
Journal Sentinel
"Scotty… a musician with high intelligence… his focus is unwavering and his seriousness of purpose evidentàa young
Walt Whitman of the trumpet." Jim Merod, San Diego Voice and Viewpoint
"Scotty Barnhart… bears watching… laid out assured melodic lines in a singing, silvery tone." Jon Pareles, The New York Times
Ken Dryden - All Music Guide…"Scotty Barnhart has been a well-kept secret, though he has recorded with Marcus Roberts, Rosemary Clooney, and the Count Basie ghost band, while also being involved as a jazz educator at Florida State. This is his first album as a leader, and unlike many youngsters who prematurely rush into studios to make try to make a name for themselves, Barnhart is full of confidence, great musical ideas, and he's also more than willing to share the spotlight. His amusing New Orleans strut setting of John Coltrane's "Giant Steps" incorporates both traditional and modern elements, with an occasional whistle added for fun, to spice up some of the intricate interplay. His muted horn is delightful in his infectious gospel tune "Say It Plain." Barnhart utilizes the flumpet (a hybrid of trumpet and flügelhorn, made popular by the late Art Farmer) in his soulful "Haley's Passage," which also showcases guitarist Rick Lollar and soprano saxophonist Todd Williams. "Jnana" is a driving hard bop tune that would have been welcomed by other bands if it had only been available during the 1960s. There are several notable guests as well. Clark Terry adds his trumpet and a hilarious vocal to the likely improvised blues "Pay Me My Money," while "Con Alma" adds Wynton Marsalis and pianist Bruce Barth. Roberts joins his former sideman on piano on several tracks, while Ellis Marsalis is also a welcome guest. Hopefully, Scotty Barnhart won't wait too long for a follow-up recording to his excellent, long-awaited debut CD."
George W. Harris…"Trumpeter Scotty Barnhart is one of those guys who?s made a steady living, quietly doing his job for 17 years in The Count Basie Orchestra, and as a sideman for Marcus Roberts. No accolades, no major record deals, just being faithful to the jazz tradition and doing his job playing behind stars like Krall, Bennett, Charles and Puente. Here is his first release as a leader, and it?s an astonishingly great collection of music. You?re going to immediately wonder where he?s been hiding all this time. He?s definitely kept his light hidden under a bushel.

His tone is crystal clear, and he?s filled with more ideas than a Mensa group. His opening salvo is a New Orleans grooved take of Coltrane?s ´Giant Steps.¡ How?s THAT for moxie?!? He can handle the sweet stuff as well, as he glistens on ´I?ve Never Been In Love Before¡ as well as his own ´Jnana.¡ He can also get assertive, as he simmers on ´The Burning Sands¡ and goes toe to toe with Wynton Marsalis on ´Con Alma.¡ Molasses voiced Jamie Davis croons through a lovely ´Young at Heart,¡ and Clark Terry joins in for a hilarious ´Pay Me My Money¡ but the guy who earns the dough on this cut is Barnhart, who plays and writes like a master. Get this guy on tour-Whew!"
Scotty Barnhart --"Say It Plain" - Jazz Police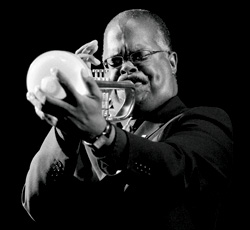 CONTACT
For information and booking Scotty Barnhart please contact:

UNITY MUSIC LLC
Heather Taylor
email: heather [at] unity-music.net
Call: +44 [0]754 507 6874
Skype: heather6mt

SCOTTY BARNHART
email: sbsbmusic [at] aol.com



©2011 SBSBMUSIC